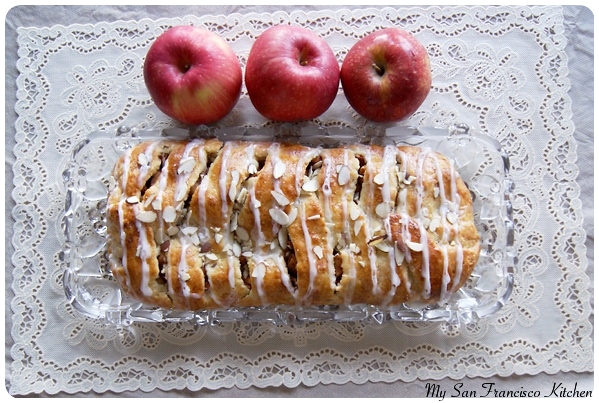 Prep time: 20 mins
Cook time: 30 mins
Total time: 50 mins
1 package active dry yeast
¼ cup warm milk
1¼ cups all-purpose flour
½ tbsp Truvia® Baking Blend
⅛ tsp salt
¼ cup unsalted butter, chilled
1 egg
¼ cup sliced almonds
Filling:
2 McIntosh apples
1 tbsp Truvia® Baking Blend
½ tbsp brown sugar
½ tsp cinnamon
¼ tsp nutmeg
Squeeze of lemon juice
Glaze:
½ cup confectioners' sugar
½ tbsp water
Dissolve yeast in warm milk in a medium-sized mixing bowl.
In a separate bowl, whisk together flour, Truvia® Baking Blend, and salt. Cut in butter with a pastry blender, fork, or food processor until crumbly.
Add dissolved yeast to flour mixture and stir with a fork.
Beat egg and add ½ of it to the dough and stir well (save the other ½ for coating).
Turn dough out onto a floured surface and knead a few times. Roll out to a 12x8 inch rectangle and transfer to a greased baking sheet.
Peel and dice apples and add to a large bowl. Add sugars and seasonings under "Filling" above and mix well. If it it too runny you can also add a tsp of flour.
Add apple mixture down the center of the rectange lengthwise (so you are making it the longest possible size), leaving 2 inches room on each side for the strips as well as on the top and bottom.
Cut 1 inch strips on each side diagonally, so looking at it in front of you the strips are oriented in a V shape (see photo).
Tuck each end over the apples and fold the strips over the apples, alternating sides. The end of each strip should be covered by the next.
Cover with a damp towel and let rise in a warm place for 1 hour.
Preheat oven to 425 degrees F.
Add 1 tsp of water to the remaining egg and brush over the pastry.
Bake for 15 minutes, then reduce heat to 350 degrees F and cover with aluminum foil to prevent it from browning too much. Bake for another 15 minutes, then remove from the oven.
If possible, transfer to a wire rack to cool. If it is too heavy and falling apart, let cool on baking sheet.
While cooling, quickly stir the water and confectioners' sugar until you reach the desired consistency (should not be TOO runny) and add to a plastic bag with a tiny hole cut in the corner.
Drizzle over the pastry and add sliced almonds for garnish.
Serve warm or cold.
Makes 1 loaf